New Releases & Wine Festival
August 15, 2018
New Releases & Wine Festival
Busy Times at the Vineyard and Upcoming Fun as summer leads to those wonderful early autumn days ....
Hello Everyone,
This newsletter is long overdue. Did you miss us? We've missed you! The season has been a whirlwind so far: a very cool spring, followed by drought conditions and surprising periods of very hot weather. The vines are now ahead of the average year. Harvest could start as early as three weeks from now!
As a thank you for subscribing to our newsletter and actually reading it, mention it when you come by this month (or in the comments area if you order online by August 31) for 10% off your purchase (using the coupon code raven) and a chance to win a bottle of the next release of our 1990 Legacy Balsamic Vinegar (drawn exclusively from the barrels begun in 1990)!
Read on for news of the August 25 to 27 wine festival, new releases including our stunning 2016 Raven the Thief and Pinot Gris and Giordano's article about our balsamic vinegar journey.

Go to our website
---
Cowichan Valley Wine Festival
Party at the Pavilion
Join us and 10 other Cowichan Valley wineries from 6 pm to 9 pm next Friday August 25 in and around the school's magnificent pavilion. Enjoy the live music and nibbles as you mingle with the winemakers and taste over 30 wonderful 100% Cowichan Valley grown and made wines. Tickets covering this event as well as free tastings of three wines at each of the participating wineries over the course of the weekend are just $35 and include the lovely branded tasting glass that will be your ticket to access the wineries all weekend.
Self-touring Weekend
Can't make the Friday evening event? Purchase your glass for $15 at a participating winery for access to all festival venues and free tastings. You can also purchase a ticket online and redeem it at the first winery you visit to receive your glass. Your glass is your ticket! You'll receive a map and a festival passport. Visit our wineries and collect stamps to fill the passport. Collect all of the stamps and you can enter the draw for our grand prize!
We will be pouring our new releases and will have delicious ice cream floats available, made with our traditional method Brut Naturel 2013!
Buy Tickets Now or Visit the Tourism Cowichan Events Page
---
New Releases
We apologize for being hermits this year - no newsletters and a distinct absence from social media recently. We were always more focused on growing and making the wine and vinegar than socializing! In spite of our absence from the modern world, word got out about our stunning 2016 Raven the Thief and Pinot Gris, and they are almost gone already. You'd better come and taste within the next couple of weeks or you'll miss out. We are also pouring the new Brut Naturel 2013 and it will be incorporated into ice cream floats available on our picnic patio during the Cowichan Valley Wine Festival on August 25 and 26.
In addition, several other wines are very low in supply, so come on by, enjoy a glass or bottle of wine on our licensed picnic patio and mention you are on our newsletter list for some surprise specials.

Check our website for selection and prices.
View Products and Order Online
---
The Venturi-Schulze "Legacy": 1970-2018
by Giordano Venturi
It was a dark, stormy night with the rain mercilessly pelting down……. No, wait. I always wanted to start a short story with this sentence. But, instead, it was a hot afternoon in June of 2015 in Spilamberto, when we were about to enter the Consorteria, the temple of Traditional Balsamic Vinegar of Modena (TBVOM).
After purchasing a book on vinegar and inspecting with appropriate reverence some of the ancient artifacts on display, we exited into the sun. We crossed the street and walked into the Official Balsamic Vinegar store. There was only one customer, an Asian woman who seemed to grow more and more impatient trying to speak English to a blank-looking storekeeper. Among the many offerings of paraphernalia connected in some tenuous way with vinegar, we finally spotted a stack of boxes labelled TBVOM. Catching our breath after noticing the prices, we picked a 25 year old example for which we paid well over $100. Once at home, I was planning to compare it to our own. This thought, I have to admit, gave me a bit of anxiety.

In the mid 90s we received our vinegar barrels made with a combination of five different woods custom made for us in a town close to Modena. The same year we started our own special solera system using 20 sets of five barrels each. We filled them with our current balsamic started in 1990, the year of our first harvest. Every year I topped them up, compensating for the evaporation losses, but I never sold any of the vinegar. I hardly even tasted it. Marilyn and Michelle quite often asked me what I was going to do with it. I dismissed their questions saying that I would have to charge too much money for it to get a decent return for my efforts. In reality, I was afraid of a direct comparison with more famous examples, especially the ones from Modena.
In 2014, after re-tasting the vinegar, I finally relented and removed enough of it from the head barrels to make 120 bottles of 100 ml each. Both Michelle and Marilyn were determined enough to charge a substantial, proper amount: 100 Canadian dollars each.
To enclose the bottle, I made a cedar box with an engraved front panel. The whole package looked great, and the vinegar tasted extraordinary, but I had large problems believing that anybody would pay that much for it. However, reality struck when the whole bottling lasted only a few weeks as people didn't seem to get enough of it.
On our return from Italy in June of 2015, we sat down for a tasting. It was time to compare our Legacy to current competitors. We had a bottle of Tradizionale that a well-known producer close to Spilamberto gave us in 2008; a traditional balsamic vinegar producer from New Mexico also sent us a sample of his 12 year old after tasting our Classic Balsamic. He evidently felt obliged to let us experience the "real" stuff. And, finally, we opened that bottle of 25 year old Tradizionale that we had purchased from the Balsamic store in front of the Consorteria.
I was a bit nervous about this as I had never compared our Legacy to the so-called "real" thing. I suspect I didn't feel comfortable enough to place such prestigious samples alongside my pedigree-lacking product; however, as usual, I should have had more faith in my efforts that took such an incredibly long time to materialize. Without denigrating the other vinegars, especially the one from New Mexico, I limit myself to say that our Legacy came out of the tasting with flying colours: it definitely displayed more complex aromas and a vitality that, when compared to the others, placed it in an altogether separate category. I can't begin to say how happy that made me. Before this point, I was afraid that my innate parochialism would affect my preference.
Whatever I thought at the time didn't really matter as the immediate success of the release rendered my doubts unfounded. Actually, I feel a bit proud to be able to stand by our product. It has been a long way since 1970, but we are finally here, proclaiming our right to be known as Ancient Method Vinegar Makers.
One evening shortly after these events, I was sitting alone in the vinegary. The last rays of the setting sun were creating complex effects of dark shadows among the barrels. I just couldn't fully accept that after such a long time we had finally arrived at a maturity that only a few years before I could have only dreamt about.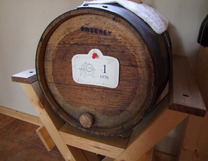 I stared at the original first barrel of 1970, now empty, sitting forlornly in a corner (its contents since moved from the leading vessel to a new little barrel from Modena) and remembered that that was the year when Greg, my youngest son, was born. A lifetime of events had passed, some exhilarating, some the stuff of nightmares. All those efforts were more the result of stubbornness than an actual solid belief. It was almost impossible in those trying years to be positive and have faith in such a shaky future.
The years passed without us realizing that something important was being accomplished. And now in my old age I finally know that I've created something unique and worthwhile, something that gives credibility to my life. All those barrels in front of me that seemed to be no more than an inert, casual presence for many years, all of a sudden had morphed into something demanding proud attention.
I wondered that evening, as darkness slowly enveloped the barrels, leaving behind only their beguiling vapours, if my dad, looking over my shoulder, would have smiled.

---
We will send out a newsletter when the 2018 release of the 1990 Legacy is available and post the news on our Facebook page
I'll be updating our website this evening with the new wines. If you live afar and want wine and/or vinegar shipped, just let us know either by email or online ordering. We will likely defer shipping wine shipments until the weather has cooled off.

Don't forget your coupon codes, which must be lower case, not capitalized, for newsletter subscriber preferred pricing on online orders:
raven -10% off all orders during August 2018
happy- direct from winery wholesale pricing on our 250 ml classic label balsamic vinegar (singly or in cases)
friends- 10% off wine orders of 12 bottles or more plus the happy discount on our classic label balsamic vinegar.

We send our warmest regards to you all and our thanks for your support over the past 30 years. Come by soon - Michelle's 2018 harvest jams are now available too.

Giordano and Marilyn Venturi and Michelle Schulze